---
Project News
STRAIGHTSOL Newsletter - Issue 6 available (pdf, 688Kb)
[More]
See our animations
[More]
New deliverables available
[More]
Summary results booklet available
[More]
STRAIGHTSOL evaluation framework resources available
[More]
Open ENLoCC event videos available
[More]
STRAIGHTSOL Newsletter - Issue 5 available (pdf, 193Kb)
[More]
Kuehne-Nagel's video: Rail tracking and warehouse management (6:50 mins)
[More]
Demonstration poster presentations available to download
[More]
---
PROJECT DEMONSTRATIONS

Demonstration E: GS1 - Smart Urban Transport Solution - Retail supply chain management and "last mile" distribution by use of standardized information
The main demo ran between October and November 2012 and aimed to show urban transportation authorities, logistics service providers (LSPs) and retailers how automatic data capturing and information sharing can enable harmonization of urban transport to achieve environmental and economic benefits. Shopping centre management may be able to offer better logistical infrastructure and service to retailers and the in-house goods flow may be better coordinated and more efficient. The demo was performed at a shopping centre in the Oslo region, with deliveries from warehouses in outer city or suburb areas. Many small receipts during the same day from different LSPs is inefficient, and it is almost impossible to do the receipt control of goods at delivery time. Another challenge is the lack of logistical collaboration between retailers at the same shopping centre (mall).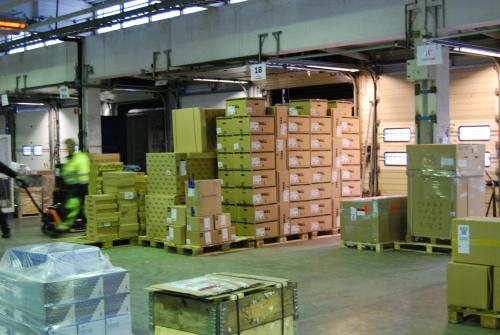 The demo showed how automatic data capturing and information sharing, enabled by global standards and Auto-ID technology, improved supply chain visibility, so that appropriate actions could may be taken to make the last mile in the value chain more efficient and environmentally friendly.
Main activities:
High level AS-IS analysis of the last mile supply chain, describe main challenges and critical issues, calculate current costs and level of pollution.
Specify the demo solution together with involved companies. Make the operational plans for the main demonstration activities.
Set up a solution for data capturing and information sharing of events in the last mile chain from LSP terminal to the retailer.
Collect event data from the supply chain using the data capturing standard in the global GS1 standard EPCIS (EPC Information Services). Set up a simple visualization model using a demonstrator tool.
Dissemination of results, project report and presentations.
The following outcomes were expected from the demonstrated concept:
Reduced number of truck-kilometres and energy consumption per delivered item
Substantial reductions in CO2 emissions
Reduced transport costs
Reduced and more reliable delivery times, less out-of stock in store
Better last mile supply chain visibility
3 PL Transport collaboration, driven by cost reductions efforts
Fewer vans/lorries to the same destination

Events
29/08/2014
Project Final Review meeting, Brussels

12/06/2014
Smart Urban Freight Conference hosted by NewRail, Newcastle University, including contributions from Straightsol project
[Conference webpage]

13/06/2014
Evaluation Framework Training Sessions, Newcastle University
[More]

02/04/2014
Open ENLoCC event, Brussels, including presentation of Colruyt and Delhaize night-time deliveries demonstration
[More]

24/09/2013
Demonstration Results Workshop/Exhibition in Amsterdam
[More]

02/07/2013
TNT Express demonstration workshop in Brussels
[More]
23/04/2013
Oxfam demonstration workshop in Batley, near Leeds, UK
[More]
07/03/2013
DHL Supply Chain demonstration workshop in L'Hospitalet de Llobregat/Barcelona, Spain
[More]
31/10/2012
Oslo: Demonstration workshop
Smart Urban Transport - Standardising information in retail supply chain management and last-mile distribution
[More]
13/09/2012
Thessaloniki: Demonstration workshop
"Intelligent" systems for the interconnection of urban-interurban freight transport
[More]
03/07/2012
Brussels: STRAIGHTSOL project workshop on Smart Urban Freight Solutions
(in collaboration with the Smartfusion partnership)
[More]