---
Presentations available to access:
---
Workshop report
This first project-level workshop was co-organised with the Smartfusion project (www.smartfusion.eu). Straightsol and Smartfusion will both demonstrate cutting edge solutions and evaluation methods for freight logistics in the urban and inter-urban environments. The aims of the workshop were to inform the audience and gain feedback from them about the demonstration activities being undertaken by both projects and of how we propose to evaluate them within a common framework that will allow cross-comparisons and analysis of transferability to other regions and cities. The event was attended by 48 people from a range of backgrounds, including industry, commerce, consultancy and academia.
The event promoted some lively debate - some of the key points raised were:
Location of an urban consolidation centre (UCC) is crucially important, in terms of its accessibility and convenience for operators to use. This can change over time depending on land use developments. Traditionally UCCs have focused on retail distribution, however, consolidation centres might be best targeted towards large public sector organisations such as universities, hospitals and local authorities which, research suggests, are significant freight generators in their own right. UCCs may also be used for storage and recycling.
Previous loading and unloading management schemes, similar to that undertaken by EMEL in Lisbon, have concluded that enforcement is a key requirement for their success.
The high cost of tracking devices (GPS) and container status units (e-seal) (~400-500 euro in the Kuehne+Nagel demonstration) is currently inhibiting their use, however, these equipment costs seem likely to drastically reduce in the foreseeable future. Theft and/or vandalism of units is perceived to be a problem both in this demonstration and in the Oxfam demonstration where remote monitoring sensors are used in containers.
These are interesting times in the developments of drive-line technologies and it seems highly likely that electric vehicles and hybrid vehicles will gain a foothold in the freight vehicle market, particularly for smaller vehicles. One delegate urged us to be more progressive in promoting this development. The Smartfusion project will investigate new vehicle technologies, including switching between propulsion method (e.g. electric/diesel hybrid) according to the air quality regulations for the area in which the vehicle is driving.
We should not be afraid to say that a particular scheme did not work as well as intended or had some negative consequences on some actors.
"Perfect is the enemy of good": no scheme is perfect for everybody; we should look for good schemes.
We should consider all actors in our analyses. In particular, important considerations are operator/driver/user acceptance and impact on service levels.
Projects should look beyond the horizons of their own demonstrations. For example, it was suggested that the Straightsol evaluation framework should be used to assess some Smartfusion demonstrations and vice versa?
Related projects that were mentioned as being potentially interesting to collaborate with in future were:

BESTFACT (www.bestfact.net) who are hosting an international cluster workshop on "Urban Freight in Europe: Achieving Benefits and Meeting Goals with Public and Private Initiatives" in Brussels on 6/7 December 2012.
C-LIEGE (Clean Last mile transport and logistics management for smart and efficient local Governments in Europe) (www.c-liege.eu), who are hosting a workshop in Newcastle on 4 October 2012.
DELIVER (Design of Electric Light Vans for Environment-impact Reduction) (www.deliver-project.org)
Dissemination and exploitation
We thank EARPA, POLIS and ECTRI for the dissemination support provided for this event and to POLIS for hosting the event.
Clustering with other relevant projects and groups will be actively sought to maximise dissemination and exploitation potential. It was suggested that an urban freight cluster group, not tied into any specific projects, may be set up with a view to holding conferences every two years, with papers and articles to be published in an associated journal and in the trade press. It was also proposed that we should look outside the normal freight arenas for dissemination opportunities. For example, the work with Oxfam can be presented at events where the focus is on charities rather than freight. The collaboration between Straightsol and Smartfusion at this workshop was viewed as being very useful and one that both projects intend to continue.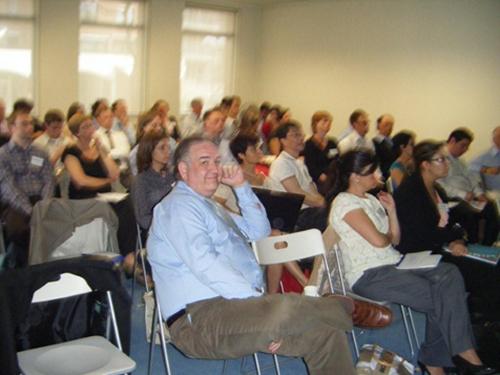 ---
Agenda
09.30-10.00 Registration/coffee on arrival
10.00-10.20 Welcome and introduction to the workshop (Jardar Andersen, TOI)
10.20-11.15 Introduction to the Straightsol demonstrations (Tom Cherrett, University of Southampton):
Remote monitoring of charity donation banks
Rail tracking and warehouse management
Standardising information in retail supply chain management and last-mile distribution
Night-time distribution
Loading/unloading operations management and regulations
Urban consolidation centre (Miquel Estrada, CENIT)
City logistics mobile depot and use of environmentally-friendly vehicles (Sara Verlinde, Vrije Universiteit Brussels (VUB))
11:15-11:30 Questions
11.30-12.00 Introduction to the Smartfusion demonstrations (Tom Zunder - University of Newcastle)
Urban consolidation centre and use of electric vehicles
Low emission vehicles
Remote monitoring of electric vehicles
12.00-12.30 Open discussion (What are the commonalities and opportunities for shared learning between the projects?)
Introduction and moderation by Tom Cherrett (University of Southampton)
12.30-13.15 Lunch break (buffet lunch provided)
How can we effectively evaluate the demonstrations for successful implementation in other cities?
13.15-14.00 Straightsol's proposed approach (Lauriane Milan (VUB) and Susanne Balm (TNO))
Key performance indicators
Multi-actor, multi-criteria analysis
Cost benefit analysis
Business models
Overall framework
14.00-14.30 Smartfusion's proposed approach (Mike Browne, University of Westminster)
14.30-15.00 Open discussion – Keys to developing a successful evaluation framework
Introduction and moderation by Tom Zunder (University of Newcastle)
15.00-15.20 Coffee break
15.20-15.45 Methods for successful dissemination and exploitation (Joint presentation by Straightsol and Smartfusion)
15.45-16.00 Workshop summary and conclusions (Tom Cherrett, University of Southampton)
16:00 Close and networking opportunity