---
Project News
STRAIGHTSOL Newsletter - Issue 6 available (pdf, 688Kb)
[More]
See our animations
[More]
New deliverables available
[More]
Summary results booklet available
[More]
STRAIGHTSOL evaluation framework resources available
[More]
Open ENLoCC event videos available
[More]
STRAIGHTSOL Newsletter - Issue 5 available (pdf, 193Kb)
[More]
Kuehne-Nagel's video: Rail tracking and warehouse management (6:50 mins)
[More]
Demonstration poster presentations available to download
[More]
---
PROJECT DEMONSTRATIONS

Demonstration C: Oxfam: Remote 'bring-site' monitoring for more reactive and sustainable logistics
Oxfam is a registered charity in England and Scotland, having around 1300 donation banks (textiles and books) situated across the UK. At present, bank collections are not driven by the amounts of materials in the banks. Schedules are based around historical or 'typical' fill rates and can often result in collection vehicles travelling to remote banks, only to find that the banks are near-empty, since few donations were made since the previous collection. If banks can be interrogated remotely then more meaningful collection schedules can be devised, focussing on the most profitable banks that need servicing more frequently and avoiding wasted trips.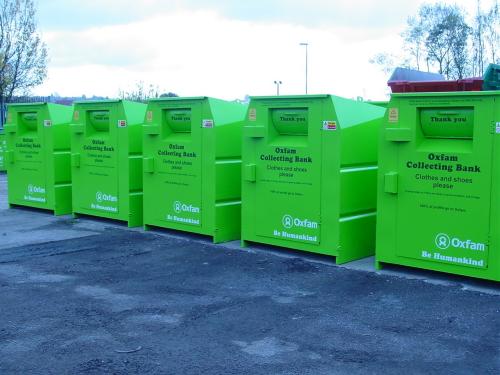 Oxfam collecting banks
The demonstration involved equipping Oxfam banks with infra-red sensors that measured how full the banks were, reporting these data twice daily, with these data being used to schedule collections more efficiently. Collections from banks during the demonstration were undertaken with the assistance of the University of Southampton, who had developed a specially designed vehicle routing and scheduling algorithm to suggest suitable vehicle rounds based on the remote monitoring data. The proposed routes output by the algorithm for each day of operation were assessed by Oxfam's transport manager and were adapted, as seen fit, for implementation, taking into account issues such as round balancing, vehicle access restrictions, staff availability and other constraints. After extensive testing of the remote monitoring equipment and of the algorithm, the demonstration went live on the 9th May, 2013 and ran until the 19th July 2013. The results showed relatively modest time and distance savings (~3%), these being limited by Oxfam's fixed shop servicing constraints. However, more substantial time and distance savings (up to 25%) were estimated for similar applications where collections can be made at any time.

Events
29/08/2014
Project Final Review meeting, Brussels

12/06/2014
Smart Urban Freight Conference hosted by NewRail, Newcastle University, including contributions from Straightsol project
[Conference webpage]

13/06/2014
Evaluation Framework Training Sessions, Newcastle University
[More]

02/04/2014
Open ENLoCC event, Brussels, including presentation of Colruyt and Delhaize night-time deliveries demonstration
[More]

24/09/2013
Demonstration Results Workshop/Exhibition in Amsterdam
[More]

02/07/2013
TNT Express demonstration workshop in Brussels
[More]
23/04/2013
Oxfam demonstration workshop in Batley, near Leeds, UK
[More]
07/03/2013
DHL Supply Chain demonstration workshop in L'Hospitalet de Llobregat/Barcelona, Spain
[More]
31/10/2012
Oslo: Demonstration workshop
Smart Urban Transport - Standardising information in retail supply chain management and last-mile distribution
[More]
13/09/2012
Thessaloniki: Demonstration workshop
"Intelligent" systems for the interconnection of urban-interurban freight transport
[More]
03/07/2012
Brussels: STRAIGHTSOL project workshop on Smart Urban Freight Solutions
(in collaboration with the Smartfusion partnership)
[More]